Ideal for Ski Schools!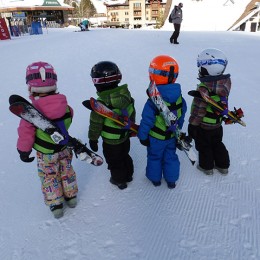 Kinderlift™ is a must-have addition to any ski school or resort. Every vest is made in America with only the best materials. That means they're built to last and with discounted bulk pricing and the option of custom logo embroidery, quality just became affordable for schools and resorts of all sizes! Make life easier for your staff and learning to ski more fun for your young students all while making safety a priority. Kinderlift is already trusted by some of the worlds finest ski resorts:
Introducing Custom Designed Kinderlift Vests & Armbands.
If you can think of the design or pattern, we can print it for you!
These vests are made of the same durable poly and nylon fabrics as used in our solid color vests
Instead of embroidering your logo and letting on the vests, we integrate these items into the design of your fabric using our sublimation printing process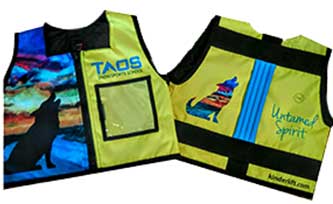 To assist in the design process we e-mail you a template you can play around with and then our designer will work with you to finalize your custom designed Kinderlift vest.
We also use this same process to make custom ski accessories:  spandex arm bands, oval arm patches, leg bands and Epi Pen holders.
Add Your Logo and Any of These Other Custom Options for Ski Resort Bulk Orders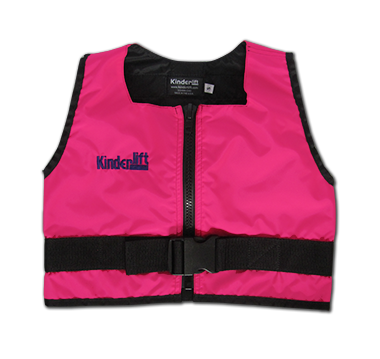 Add a buckle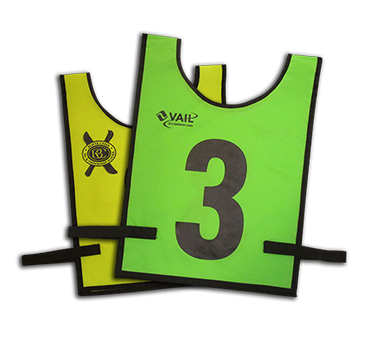 Kid and Adult bibs also available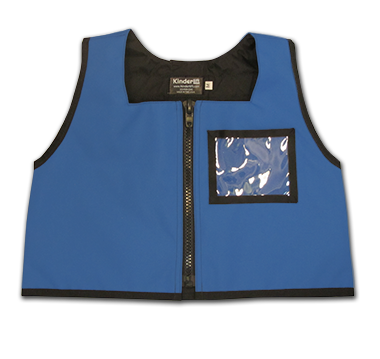 Add a pocket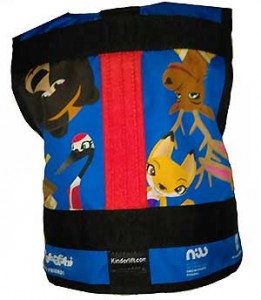 Isn't it time for your ski school and resort to offer the coolest looking ski vests in the world?!
Contact us for pricing and design details or to order a sample vest made using this new process. For ski schools or to make bulk/custom purchases please call (303) 898-2242 or drop us a line here
---
Introducing Custom Designed Ski Accessories:
Click here for more information.

---

New Generation Ski Schools are Now Using Kinderlift Vests Across Europe! Click Here to See Them in Action!
The Telluride Ski and Snowboard School has been using kinderlift vests to help create a safer, more enjoyable experience for our youngest guests for over a decade now. Kinderlift vests ensure the highest level of safety and quality…If another ski school is looking to invest in one children's product that's going to increase safety and visibility of their most precious guests, the Kinderlift vest is it.

If you've been up to Vail the past couple of ski seasons, you may have noticed groups of brightly-colored vest wearers trailing alongside a person much larger than said vest wearers. If so, you've spotted a Vail ski school class outfitted with something parents of kindergarten-aged kids and other ski schools ought to consider for their little ones this season and seasons to come. Manufactured right here in Denver by a company called Kinderlift of Colorado…Read More
Why resorts love us:
When kids fall down while skiing, use the strap to help them up
Use the strap to help the little ones on and off the chairlift
Use the strap to keep your child close while on the chairlift
Oversized zipper is easy to use
Bright colors stand out on the slopes
Made in the USA in Colorado
2 layer nylon and poly fabric
5 sizes to fit your child (ages 3-8)
What Everyone Is Saying About Kinderlift!
February 2013
"We think the Kinderlift vests are great"
Kristina Lorenz Kid's Club Manager Niseko Base Snowsport Hokkaidi, Japan
March 2013
"It has been an awesome season and we are loving our Kinder Vests!!"
Shea Unger Youth Services Manager Yellowstone Mountain Club Big Sky, Montana
March 2013
"We are loving our vests!"
Mya Frantti Manager, Children's Programs Deer Valley Resort Park City, UT
2011
"Lift riding is a great example of why we love the safety vests. When loading a lift with a child you can use the handle on the back of the vest as an additional support or help for the child to get onto the chair."
Bobby Murphy Director of the Vail Ski and Snowboard School Professional Ski Instructors of America's Alpine Team Vail, CO
March 2013
"We are loving the vests."
Jen Shannon Operations Manager Ski and Snowboard School Snowshoe Snowshoe, WV
January 2013
"…We love the vests. One of the advantages in having a strong strap at the back of the vest is if a child misloads on a chair, it is a lot easier for a lift operator to grab the handle and scoot them back on the chair. It is also easier to pick up a child on the hill…"
Robyn Syah Squaw Kids Supervisor Squaw Valley Olympic Valley, CA
August 2012
"Our new Kinderlift vests are amazing and the children who wear them think so too. We never have a problem a problem getting children to wear them so that they are visible on the mountain. The children can zip them on and off by themselves which is a big bonus. Our lift operators and instructors have said that the handle on the back makes it so easy to load children onto lifts and ensures that they are safe on the busy slopes."
Michel Marchand Snow sports School Manager Coronet Peak Ski Areas New Zealand
2012
"I really can't imagine teaching kids how to ski without the Kinderlift vest. There's nothing else like it for what we do."
Micah Samuelson Ski Instructor Sunlight Mountain Resort Glenwood Springs, CO
2012
"Why didn't they have this when I was teaching my daughter to ski?"
Gwen Masterton, Grand Mother, talking about using the Kinderlift for her grand kids USA
Size Chart*
| Size | Age | Chest Measurement |
| --- | --- | --- |
| XXS | 2-3 | 27″ |
| XS | 4-5 | 30″ |
| S | 5-6 | 33 1/2″ |
| M | 7-8 | 37 3/4″ |
| L | 8-9 | 41 1/2″ |
| XL | 8-10 | 45 1/2″ |
*Note: Chest measurement is around the child under the armpits.Please make sure they have on all of their ski clothes and jacket they would normally wear on the slopes.
Save
Save
Save
Save
Save
Save
Save
Save
Save
Save
Save