Kinderlift Featured in Canadian Ski Instructors' Alliance Newsletter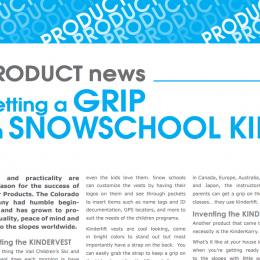 Kinderlift was recently profiled in the British Columbia Canadian Ski Instructors' Alliance (CSIA) quarterly newsletter. The article, which is two pages long and features insights into the thought process behind various Kinderlift™ products, can be found at CSIA's website (page 26) www.snowprobc.com.

We are very proud of this article and to be recognized by such a well established organization. The entire article is really great and you should read it if you have the time, but we thought we'd highlight some of the more prominent excerpts that showcase our core values as a company and why we are honored to get the chance to make ski slopes safer for kids.
"Safety and practicality are the reason for the success of Kinder Products."

"Kinderlift has grown to be the world 's leading children's safety ski vest. Ski instructors, lifties and parents, even the kids love them."

"Embraced by Snow schools for little kids in ski classes in Vail, Squaw Valley, resorts in Canada, Europe, Australia, New Zealand and Japan so the instructors, lifties and parents can get a grip on the kids in their classes… they use Kinderlift."

Also noted in the article is how easy it is for a ski schools to customize the vests with their logo and add a clear pocket for name tags and ID documentation, GPS locators, or anything else to suit the needs of the children programs.