Smartlift Pocket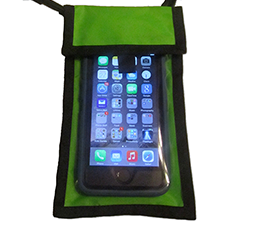 Kinderlift™ Smartlift … the cool looking pocket to keep your phone safe and handy on the lifts and ski slopes.
You're on the chairlift and you want to (no, make that you have to) check e-mail, Facebook, Twitter, maybe even make a phone call. You need to take off your gloves to get to your phone. What a pain. Then, once you get the phone out, your hands are cold. It's snowing. The chair is swinging around. The other people on the lift are crowding you. Oops … you dropped your phone. Yes, this happens a lot. That's why we created Smartlift pocket … so you can get a grip on your phone.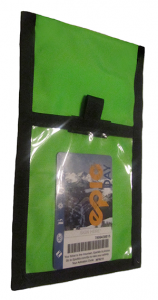 Smartlift is the coolest water repellent smartphone carrying case around. It hangs on a lanyard around your neck so your phone is safe yet easy to get to.
It has 2 secure clear vinyl pockets:

Front pocket holds your smartphone securely behind a Velcro flap
Back pocket is great for your ski pass, credit card, driver's license … even cash

Adjustable lanyard fits around your neck or over your shoulder so the pocket is safe and warm under your jacket … and this keeps the phone easy to get to when you need it. With the lanyard around your neck and the smartphone in the front pocket, you can't drop the phone.
And … you can use the phone and all of its functions while it's in the pocket … touch screen functions work right through the clear vinyl
Available in several cool colors: lime green, black, hot pink, royal blue, purple (more colors soon)
Rugged nylon and polyester fabrics
Made in Denver, Colorado
You can customize the Smartlift pocket with your own logo or lettering on the front flap
Patent in process
NOTE: Have you heard, the resorts are now developing lift ticket apps
so you don't need to go to the ticket window, just download the app and go … but you'll need to keep your phone handy to show the app lift ticket when you're getting on the lift. All the more reason for a Smartlift. It's not just for skiing, it works great for almost any outdoor activity. Any time you need a safe and secure place to carry your phone, Smartlift works. Hiking, camping, fishing, boating, walking.
Pricing Info:
$19.99
Contact us for additional info on this new product or for wholesale / custom pricing information.


Save